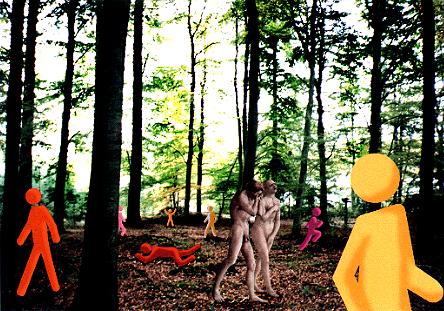 Uden titel/without title


Harvey Dingwall
108 George Street
EH2 4LH Edinburgh
tel 0044 131 225 2107

Uddannelse/Education:
Royal Collage of Art, London: Master of Arts 1992-94, Chelsea College of
Art and Design, London: Master of Arts (1st Class) 1989-92, Camnerwell
School of Arts and Crafts, London: Foundation Course 1988-89.

Udstillinger/Exhibitions:
Henry Peacock Gallery, London 1999. Commonwelth group show, Lille,
France 1998. "Gift" Festival Exhibition, Tblisi, Georgia 1997. Brande
Museum, Denmark (group show) 1997. Erskineville Studios, Sydney (group
show) 1996. Atlantis Gallery, London 1993. Fresh Art, Business Design
Centre, London 1992. Andsell Gallery, London (group show) 1992. Bedford
Hill Gallery, London 1991.

Priser/Prizes:
Travel Scholarship to Nepal and India 1995-96. Burston Award 1994.
Travel scholarship to Ryksakademie van Bieldende, Amsterdam 1994.
Erasmus Travel Scholarship to Berlin 1994.

Design & illustration:
Arts editor and illustrations for new Scottish monthly magazine, "Red
Herring" 1998 & 99. Regular illustrations for the Scotsman newspaper,
Animation work for Channel 4 1998.

Undervisning/Education:
Art workshop with special participants of Garvald 1998. Art projects for
Lyceum Theatre, creating exhibitions with adolts with learning
difficulties from Grindlay Court Centre 1997 & 98. Erskinville College,
Sydney, evening classes in painting and drawing 1996. Beechcroft school,
London, temporary classroom assistant in secondary school for
emotionally behaviourally disturbed bays between ages of 14 and 18 1995.
Parttime teaching, lectures and individual tutorials: Middlesex
University, Watford College (Foundation course), Ruskin School of Fine
Art and Drawing, Bristol Uniersity.


---